Despite the fact that every single rabbit is unique with its own set of preferences, they all share a love of carrots. While some rabbits would like the opportunity to laze about in a hammock, others could be too timid to get onto a moving bed.
If you are considering purchasing a hammock for your rabbit, there are a number of factors that you will need to take into consideration before making your purchase. You will be able to determine after reading this article whether or not it is probable that your rabbit will utilize a hammock.
Buying Guide for Rabbit Hammock
Your rabbit's living situation, whether it be free-range, in an enclosure, or in a hutch, will determine the kind of rabbit hammock you should choose for it. If you keep your rabbit in a cage, a hammock with a home to hide in will help your rabbit feel secure and comfortable. Because rabbits like snuggling up to and chewing on hay, it is a good idea to line the bottom of the hutch in which you keep your rabbit with either straw or hay.
If you have selected a new bed for your rabbit, such as a hammock, and it has not been welcomed with excitement, you might try transferring it to a different area. This is an option if the rabbit bed is a hammock. Sometimes rabbits may be picky animals, and it's not the hammock that they don't like; rather, it's the position of the hammock that bothers them.
Features to Consider
Different kinds of fabric
Your rabbit might have a preference for thin nylon or fluffy fleece. Hammocks may be constructed using a wide variety of materials. Find one that is constructed from the material that he likes the most.
Suspension
Some rabbit hammocks have a striking resemblance to actual hammocks used by people. You may provide the central portion of it a modicum of support by affixing its two edges to the respective corners of the cage. You may also hang some hammocks from the ceiling of your enclosure to give your pet additional room to roam about.
But which of these options is preferable for your rabbit? It is difficult to say. You have to be aware of the things that your rabbit enjoys doing. The first choice is ideal for him if he like to huddle together in a secluded area. On the other hand, a rabbit that enjoys climbing and has an adventurous spirit might choose one that moves more often.
Shape
Rabbit hammocks are available in a wide range of sizes and styles. Some are square, while others take the form of a circle. There are some that are designed like homes, and there are others that are fashioned like tunnels. Your rabbit could have a preference for one form over another when it comes to sleeping quarters, thus the shape is important.
Take into account the dimensions of your rabbit as well as his preferred sleeping position. If you discover him curled up in a ball when he's sleeping, a circular rabbit hammock could be the right choice for him. However, a pet who likes to stretch out to his full length could be more comfortable in one that is long and rectangular in design.
Precautions
Please be sure to check for indications of chewing on a regular basis and replace if required.
Alfie Pet – Kasey Hanging Rabbit Hammock
1500 Amazon Reviews
4.5/5 Amazon Rating
Soft Bed
Comfortable
Easy to clean 4.5/5
Sturdiness 4.3/5
Softness 4.2/5
Durability 4.1/5
Value for money 4/5
Alfie Rabbit Hammock is one of the best and most recommendable rabbit hammocks. Rabbits like a climbing challenge and hammocks provide them with one. You can set up your hammock so it takes a little work for your rabbit to climb into it. Your rabbit may enjoy the challenge of climbing in and out of the hammock.
Rabbit Hammock provides a place to sleep. Rabbits like to sleep in high, closed-in spaces. Your rabbit can sleep soundly in a hanging hammock. It saves space, you hang it from the top of the cage, and it takes up no space. Your rabbit can run and play on the floor without having a large obstacle blocking his path.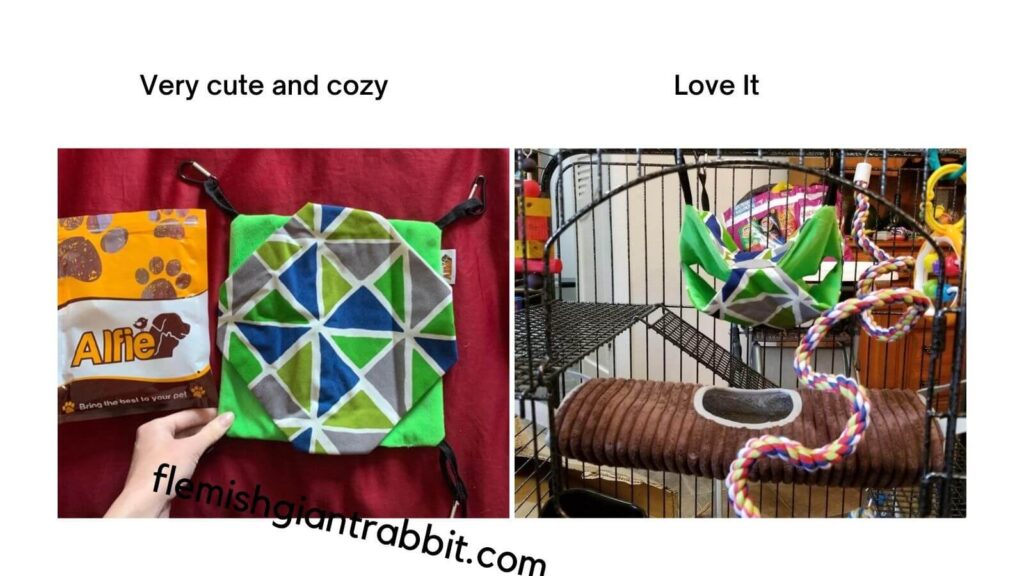 This soft bed adds another level of living space to your rabbit's cage and provides a comfortable spot to snuggle Ultra-soft, fleece lining material for the highest level of comfort. Includes straps and spring clips to strongly secure the bed into position anywhere in your rabbit's cage
It can be washed in a machine, making it easy to clean. Made with a soft fleece lining, this is a great place for your little friends to sleep or play that is safe and warm. This rabbit hammock has four strong nylon straps with metal clips that make it easy to attach to almost any wire-frame home.
Dimension: 11.85 x 9.17 x 1.46 inches
Type: Fleece
Machine washable: Yes
Reasons to buy
It is easy to clean
Sturdiness
It is very soft
Durability
Reasons to avoid
Fukumaru Rabbit Hammock
2000 Amazon Review
Amazon's Choice
4.7/5 Amazon Review
Comfort 4.7/5
Easy to assemble 4.7/5
Sturdiness 4.7/5
Easy to install 4.4/5
Value for money 5/5
This Kukumaru rabbit hammock will quickly become your pet rabbit's favorite spot to sleep and unwind, particularly if he enjoys staying hidden and keeping an eye on things from the comfort of a warm and inviting refuge.
The texture of the cloth needs to be one that is mild and agreeable. Additionally, the Imitation Rabbit Hair can be removed, which makes it simple to clean and wash.
This will quickly become your rabbit's favorite place to sleep. The average amount of sleep a rabbit gets in a day is between 8 and 11 hours. As a consequence of this, the really comfortable resting spot that rabbits have is an extremely significant component in their way of life.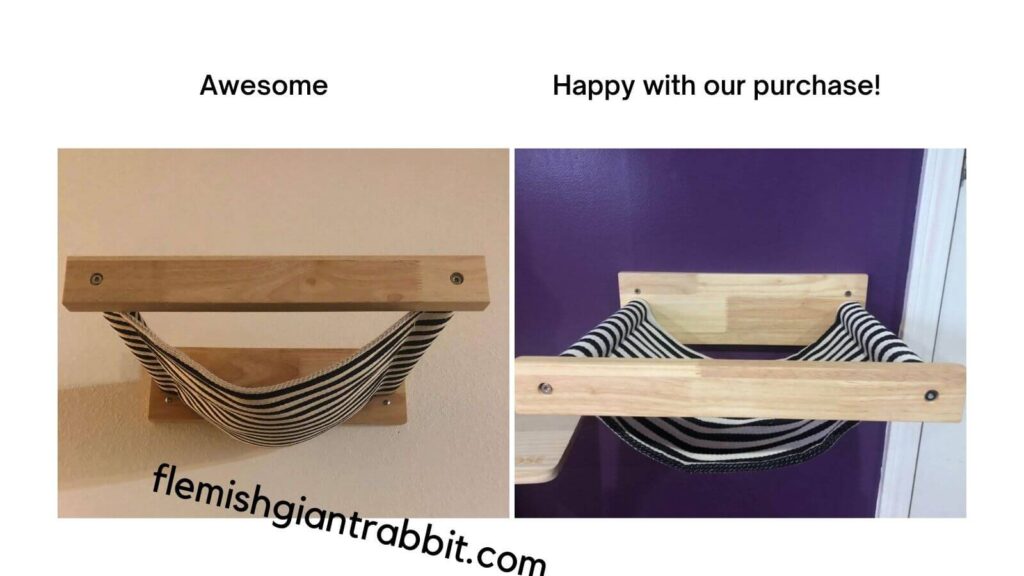 After purchasing, the product is packaged in a lovely box, and it will make a wonderful present for not only your human relatives and friends but also your human and animal children.
This Kukumaru rabbit hammock is a trendy update on the traditional rabbit furniture design, and it mounts on the wall in a straightforward manner. It offers your rabbit a vertical place in which it may rest, take a sleep, and survey its surroundings.
It can be washed in a machine, and the fabric can be removed quickly and simply for washing, both of which save you time. It is hand-crafted pet furniture that is both attractive and effective, and it is constructed of rubberwood, which is robust and long-lasting. Because of the inherent characteristics of the wood, each one is somewhat unique.
Your rabbit will be able to explore their newfound domain of vertical rabbit stairs in less than half an hour thanks to the fact that it is simple to install, it comes with the necessary equipment, and the instructions are clear and easy to understand.
Dimension: 16 x 14 x 5 inches
Type: Rubberwood
Machine washable: Yes
Reasons to buy
It is easy to Install
It is machine washable
It is made of a comfortable fabric texture
It last longer
Reasons to avoid
It is white in color and easily gets dirty
Tamoie Rabbit Hammock
100 Amazon Review
Amazon's Choice
4.7/5 Amazon Review
Easy to clean 5/5
Softness 5/5
Durability 5/5
If you're looking to purchase a hammock for your rabbit, this is one of the better options available. The inside is softly lighted and concealed enough, which gives rabbits the impression that they are secure. Additionally, there is sufficient space inside for rabbits to snuggle up and take naps. Your rabbit will have a more restful night's sleep in this rabbit hammock, which also shields it from the elements.
It features a non-slip bottom, which can be fastened with a hook to hold the bed in place, make it more sturdy, and stop the rabbit from ripping it and dragging it about.
It comes with high-quality hooks and chains that may be used to hang the hammock or rabbit bed. Hammocks and rabbit beds are better suited to the climbing tendencies of pets.
It comes with two washable pads that may be used in rotation, so you can reduce the frequency with which you clean your home by simply washing one of the pads.
Dimension: 10.75 x 10.35 x 3.39 inches
Type: Crystal Velvet
Machine washable: Yes
Reasons to buy
It is made of safe materials
It is highly comfortable for rabbit
It is designed with an attractive design
Reasons to avoid
It can be easily destroyed by rabbits in a few days of dragging.
Jetec Hanging Rabbit Hammock
100 Amazon Review
4.3/5 Amazon Review
Reliable material
Easy to install
Softness 5/5
Easy to clean 4.5/5
Value for money 5/5
Recommended By Us
The rabbit hiding corner is constructed from materials that are soft, long-lasting, pleasant, and safe for your rabbit. These materials include polar fleece and non-woven fibers. Your bunnies will be warm and comfortable in the hanging hammock made of polar fleece and arctic fleece since it is well-sewn and has a thick layer of material.
When you purchase this product you will get one rabbit hanging hammock as well as one rabbit hideaway nook, and all of these items have adorable designs on them. This is a nice mix. You may satisfy the demands of your rabbits and provide them with additional pleasure with this method.
This rabbit hammock is available in two sizes to accommodate rabbits of varying sizes. The bottom of this hammock is large enough for rabbits to hide and play in, and the top is shaped like a hammock, so when they are exhausted, rabbits may sleep on it.
It's easy to set up; all you have to do is attach the metal hooks to the cage's four corners. You will want three hooks in order to create a rabbit hiding nook, and you will require four hooks in order to hang a hammock. It is secure and stable enough to hold your rabbit without the risk of their sliding off, which is a relief for rabbit owners.
It is an excellent choice for the majority of rabbits due to the fact that it has a cozy and fluffy hideaway nook as well as a rabbit hammock cage that provides them with beautiful private places. It works very well for the majority of bunnies, and it's a terrific present for those who like their rabbits.
Dimension: 10.2 x 9.65 x 2.36 inches
Type: Fleece
Machine washable: Yes
Reasons to buy
It is very easy to clean
It has beautiful designs that attract your rabbit
It is made of high quality material
Reasons to avoid
Your rabbit might take longer to adapt to it
Stkygood Rabbit Hammock
500 Amazon Review
4.6/5 Amazon Review
Chew proof 5/5
Softness 4.8/5
Easy to clean 4.3/5
Sturdiness 4.5/5
Value for money 5/5
Recommended By Us
The Stkygood Rabbit Hammock is very long-lasting. Since it is a digitally printed hammock, the color will not fade easily, the cotton and linen materials are sturdy and long-lasting, and the hammock for rabbit cages will not distort when they are cleaned.
It is quite secure, the rabbit hammock with four hooks can hold up to five kilograms (11 pounds), it is sturdy, and it does not take up much space on the bottom of the cage.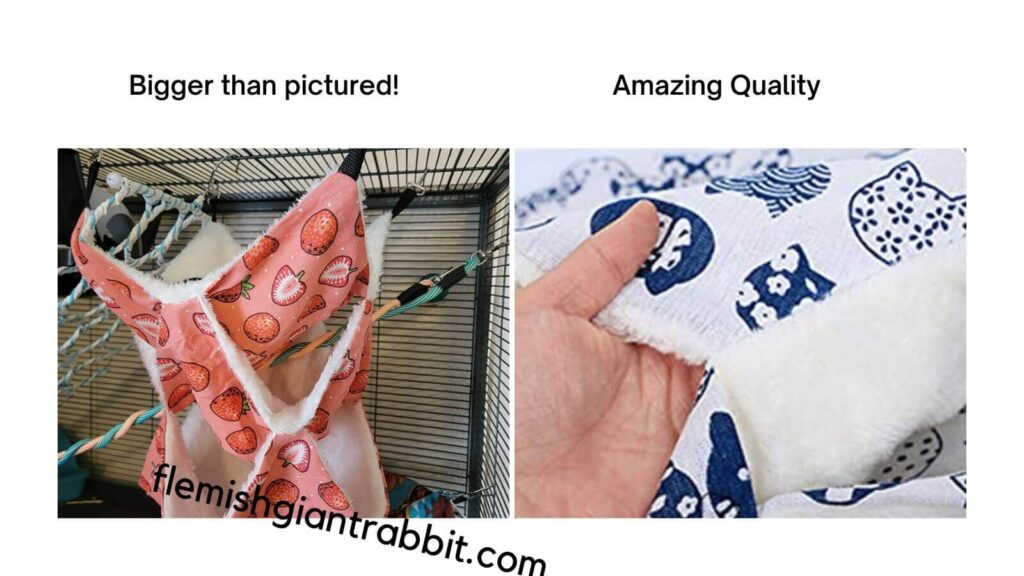 Your rabbits are going to like this fluff-filled rabbit hammock because it is warm, it has fluff inside of it, it is toasty, it is soft and cozy, and your bunnies will never leave it. This rabbit bedding is designed with three layers, making it large enough to accommodate at least three smaller bunnies.
It is simple to clean. This rabbit bedding may be cleaned by soaking it in bleach and water for six hours, and then placing the cage hammock in the washing machine. However, it is recommended that you wash it by hand instead.
Dimension: 5.63 x 4.53 x 2.95 inches
Type: Cotton
Machine washable: Yes
Reasons to buy
It is very large
Your rabbit will enjoy sleeping there
It is made of good quality material
Reasons to avoid
Jetec Rectangular Rabbit Hammock
100 Amazon Review
4.8/5 Amazon Review
Reliable to use
Suitable
Easy to clean 5/5
Softness 5/5
Durability 4/5
Your rabbits will have a nice and cozy place to live thanks to the rabbit hammock, which is equipped with four clips that securely attach it to the cage so that they may use it. The dimensions of the soft mat are roughly 11 x 13.3 inches, which makes it an appropriate size for rabbits. The hanging hammock is around 13.4 x 14 inches.
Your rabbits have a number of alternatives available to them in the rabbit cage hammock, including the chance to play, to rest on the upper level when they get tired, or to sleep on the lower level. In addition, it may be hung from the bars of the cage or set flat on the floor to serve as a slumber bag for your rabbits while they play.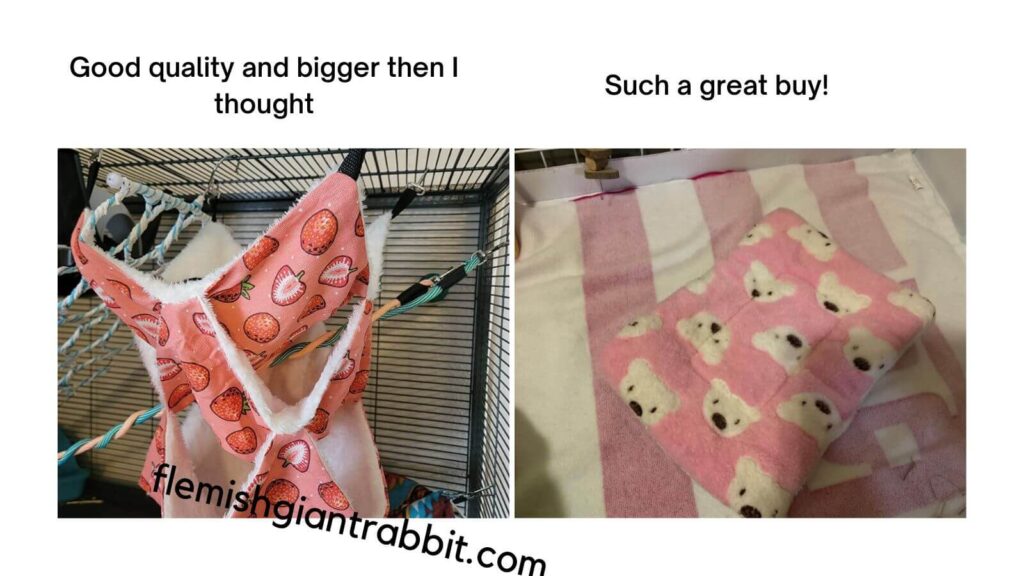 Both the bunk bed sugar glider hammock and the rabbit mat are crafted from high-quality flannel and polar velvet materials. These materials are soft and pleasant for your rabbits to use, do not fray or fade easily, and are sturdy enough to serve your rabbits for an extended period of time, thereby providing them with a positive experience.
You may put the rabbit mat below the hanging hammock so that when your rabbits jump down from the hammock, they land on something cushioned. This will increase the amount of entertainment activities available to your rabbits and encourage them to keep active and in shape. The rabbit gets a lot of enjoyment out of the 2-layer design's elegant style, which gives a lot of pleasure for the rabbit.
Dimension: 11.57 x 8.54 x 0.12 inches
Type: Flannel
Machine washable: Yes
Reasons to buy
It is very soft and comfortable
It is easy to clean
It is durable
Reasons to avoid
Rolybag Rabbit Hammock
The Rolybag Rabbit Hammock is made from durable and high-quality materials throughout its construction. This rabbit hammock has two sides, the cotton and linen side of this rabbit hammock is for the summer, providing a cooling effect during the warmer months and allowing your pet to lazily sleep on top of it at any time in peace. The lambswool side of this rabbit hammock is for the winter and provides unsurpassed warmth and comfort.
It is easy to store and takes up very little room since the rabbit hanging bed is made in a compact dimension and can be folded into a small piece. In addition to that, it is an excellent choice for bunny hospitals, families, and those who travel with their pets. It is important to choose the suitable size of rabbit hammock by taking their dimensions into consideration.
It is made to be hung up quickly and easily. It is possible to secure it to the corners of crates or cages by using the metal hooks that are provided, or it may be hung from the majority of chairs if they are designed appropriately. Because it can be hung from chairs or cages, this rabbit hammock bed is an excellent choice for you if you are looking for a way to save space in your home.
To clean it, you can either wash it by hand or put it in the washing machine, which makes it very easy to clean. Because the hooks are made of metal, you need to make sure that you protect your washing machine by using a washing bag. The first time you put your cat on the cat hammock bed, we strongly suggest that you clean it well, give it plenty of attention, and make sure it stays happy and healthy.
This rabbit hammock is ideal for providing your rabbit and any of your friends who also have wonderful bunnies with a comfortable place to rest when traveling. It is also an excellent choice for families and hospitals who care for rabbits.
Dimension: 7.01 x 6.81 x 1.5 inches
Type: Soft velvet
Machine washable: Yes
Reasons to buy
It is made of high quality materials
It has convenient hanging design
Design is made on both side
It is easy to clean
It comes with strong strap and sturdy hooks
Reasons to avoid
It can be smaller than expected
Homeya Rabbit Hammock
Homeya rabbit hammock with reversible fabric on both sides. It may be worn in every season since one side is made of waterproof nylon fabric, which is ideal for hot weather, and the other side is made of soft fleece, which is ideal for cold weather. Provides a safe and pleasant environment for tiny dogs to play, sleep, or relax at any season of the year.
The metal clips are simply going to be attached to the cage in this step. There is also the possibility of having it put below the bed, as well as some seats or a table. You'll be saving valuable floor space.
Hooks of superior quality, which are rust-resistant, wear-resistant, and steadfast are included. Extra sturdy holding straps capable of sustaining up to 5 kilograms (10 pounds). We advise cleaning your hands with soap using your hands. Additionally possible to be cleaned in a washing machine
Dimension: 7.72 x 4.92 x 1.81 inches
Type: Fleece & Nylon
Machine washable: Yes
Reasons to buy
There are multiple to choose from.
It is easy to clean
It is durable
The type of hammock for spring season is waterproof
Reasons to avoid
It can damage your washing if not properly used while washing it.
Persuper Rabbit Hammock
Persuper rabbit hammock comes with straps and clips are both durable, with the straps being sewed firmly using a design with twin stitching. Newly designed clips feature larger holes, making them easier to install while also improving their longevity. Your gorgeous rabbit may feel safe and supported in this rabbit hammock.
Simple to clean, may be washed either by hand or in a machine, and retains its shape after being washed. Please ensure that your washing machine is protected from any harm caused by the metal hooks by using a washing bag. It can be folded up, is lightweight, can be conveniently stored and taken out anyplace, and is simple to put together and clean.
The rabbit hammock may be used for several purposes, since it can be attached to a variety of various sized cages, tables, and chairs. The cage will be firmly secured by the clips made of stainless steel. It is an excellent device that will help you save room in your home. And it's in their nature to seek refuge in dark and secluded places.
It provides a sleeping and resting place for rabbits. With the adjustable straps, you can also set the position and height of your rabbit hammock to the level that is most comfortable for you and your pet.
Dimension: 7.72 x 4.92 x 1.81 inches
Type: Soft velvet
Machine washable: Yes
Reasons to buy
No odor
Free of harmful toxins
A Gentle Feeling
Anti-Scratch
Reasons to avoid
It can damage your washing if not properly used while washing it.