Having a pet and nurturing for it is no less than bringing up a child of your own. They deserve every bit of love, care, and attention from you. Another thing they need is their own personal space at all costs. That's why rabbit nesting box is very important.
We understand, when you have a pet at home like a puppy or a kitten or a small rabbit, you always want to keep them near you and in front of your eyes. However, having their own safe space is necessary for their growth and development, as well as building trust between you and the pet.
Even though rabbits are small, you cannot just leave them around all day. Even more so when they are about to give birth or have just given birth. The doe rabbit needs privacy and safety to nurse the babies, and the rabbit kittens need the warmth and protection of an enclosed area as well.
In this article, we will discuss at length the requirements, buying factors, and the best products for rabbit nesting boxes for your convenience.
Why Do Rabbits Need A Nesting Box?
In the wild, rabbits are used to digging deep burrows in the ground and nesting there before and after giving birth. The depth of the burrows provide safety to the mama rabbit and the babies from preying predators as well as from harsh weather conditions.
At your home, there is no scope for the rabbit to do the same. So you provide her with a nesting box so that the rabbit can get all the safety, security, and comfort of a natural burrow right in your home.
Although a rabbit nesting box is absolutely necessary if your bunny is pregnant, you can get it one even if it is not. Nesting boxes are naturally more comfortable residences for rabbits as they tend to resemble natural burrows' environment. So nesting boxes can be a great place for your rabbit to just rest, sleep, or even hide if you have a bigger pet at home like a cat or a dog.
How do you choose the right rabbit nesting box
It is safe to assume that if you are a first-time rabbit owner, you do not know much about how to go about purchasing a nesting box. There are a few factors which determine what kind of a nesting box you should get.
Size
Size is very important in this case. If you have a big sized rabbit like the Flemish Giant Rabbit, then you would obviously require a larger nesting box, whereas a smaller one would do for the breeds like Mini Lops.
Refer to the size chart if there is one before you buy a rabbit nesting box. If in doubt, you can measure the rabbit and match it against the size chart numbers as well. Keep in mind, your rabbit does not need a nesting box too big than its own size. It just needs to be comfortably settled inside. However, if it is for pregnancy, then buy a box big enough to fit the litter as well.
Material
When it comes to the material, you have a few options. Wood is natural and non-toxic to rabbits at all times. In case the rabbit starts chewing on it, there will be no harm.
Metal nesting boxes, on the other hand, are much more durable and long-lasting. They are also far easier to clean and maintain than wooden boxes.
Plastic is cheaper and very easily available. They are also durable and easy to clean. However, there might be concerns about the rabbit's safety as well as its litter. If you must buy a plastic rabbit nesting box, go for a high quality one from a reputed company.
Wire nesting boxes are also there, which come with strong mesh wire all around. They are airy and lightweight, but not completely protected like wood, metal, or plastic.
How to Prepare a Rabbit Nesting Box?
Once you have purchased the rabbit nesting box, follow these steps to make the box ready for your rabbit. If you are buying it only for the rabbit to rest and snuggle in the box, then there is no hurry and you can take your time with it.
However, if the rabbit is due to give birth in a day or two, in that case you need to prepare the nesting box quickly.
The procedure is not as difficult as it sounds like.
Step 1:
The first step is to sanitize the rabbit nesting box. If you are buying from a reputable seller then you can expect to get a clean and safe nesting box delivered to your house. However, the sanitization process is still necessary. Wash or disinfect the nesting box with a mild bleach solution and then leave the box out to dry in the sun. Wait for it to dry up completely.
Step 2:
The next step is to form the foundation of the nesting bed inside with a cardboard sheet. Cut out a piece of cardboard fitting the size of the floor of the nesting box and place it inside the box to create the padding.
Step 3:
Next, fill the nest with grass or hay to make the nesting bed. You should go for softer grass hay such as Orchard or Bermuda. The common variety or alfalfa grass hay tends to be thicker and sharper, and can poke the soft bodies of the rabbit.
Once you lay down a thick layer of grass hay on the floor of the rabbit nesting box, use your fist to create a dent at the back center – that way it will resemble an actual rabbit burrow and make your pet feel more at home.
Top 6 Rabbit Nesting Boxes
Hand-crafted Extra Large Grass House
500 customer ratings
Rating
4.2 out of 5
Provides Comfort and Security
Mega Chew Toy
Multi-Utility Toy
Non-Toxic
Larger Grass Playhouse
Play Hide and Seek
Big Openings to Hop In
Great Mat
If you are optimistic to keep pygmy creatures at home, this one little house will give your companion their place. The little furry playhouse measures 14'' x 11'' x 10'' dimensions. The grass hut is compatible with not only rabbits, but hamsters, ferrets, or chinchillas as well.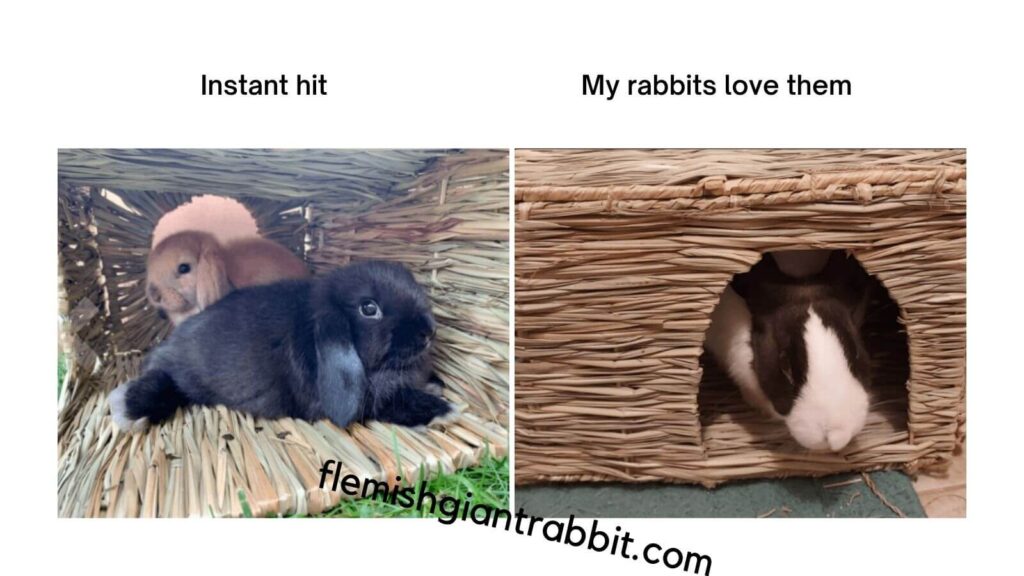 The straw made playhouse is 100% natural for pets. The natural blend of grass blades gives animals the scent of nature that they love. This rabbit nesting box might seem little to you. But for your little creature, the space is big enough to accommodate them and their belongings.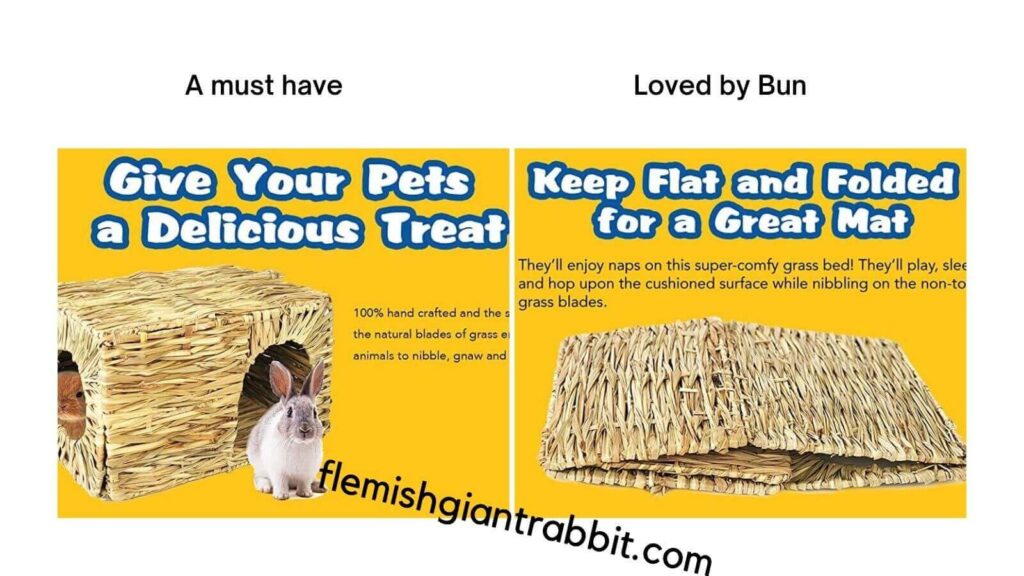 Pros
The natural straw material is chewable. Therefore, the little house adds up as a huge chewy toy for your little friend.
The packaging has extra string. You can add it up if your pet tears any part of the playhouse.
The hut adds up as a playful object. Most of the little pets love to sniff and find things in their hut.
The opening in the hut is pretty big to hop inside. One loophole can allow a rabbit to rest inside comfortably to sneak at the same time.
You can keep the straw hut flat or in hut format. The product adds up both as a day and night time surface.
The surface is pretty simple to clean.
AmazonBasics Rabbit Nesting Box
Rating 4.6/5
28,000 Users Ratings
Durable Plastic
Good Ventilation
Secure, and Comfortable
Convenient Features
Heavy-Duty Design
Secure Construction
This nesting box is not only great for the rabbit's resting and nesting but also to carry them around. If you need to travel with your pet quite frequently, this is the ideal kind of product for you.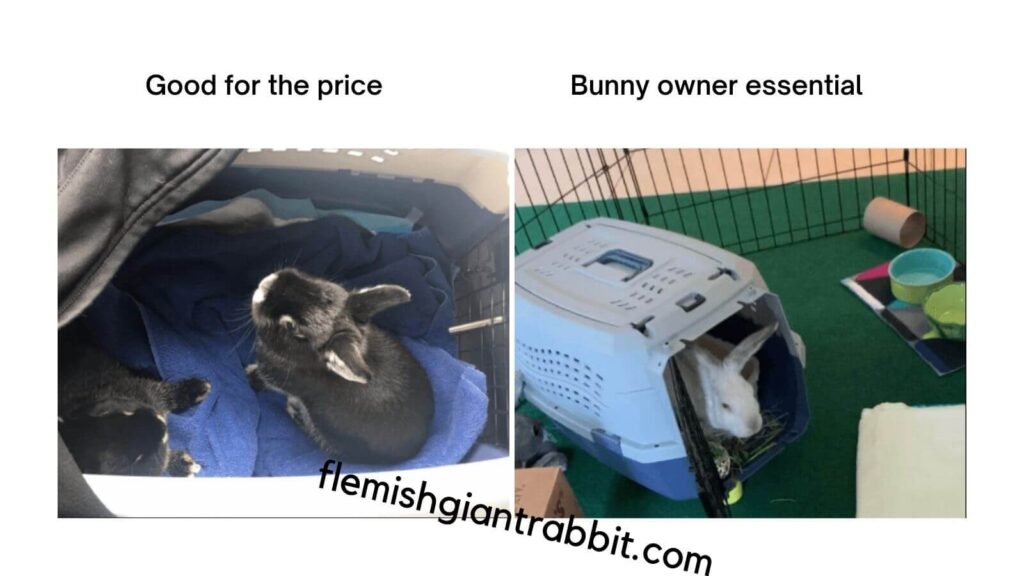 Pros
The 19-inch kennel gives enough space for your pet to move freely.
It keeps pets safe, and comfortably secure.
You can take your pet on a hike, park or vet in this kennel.
The 2-door opening gives a sturdy and airy design. One door is present at the top, other at the front. The inside does not feel claustrophobic at all.
Doors have spring loaded latch for ease in opening.
The plastic is durable, the steel wire door is sturdy.
CO-Z Topnotch Rabbit Nesting Box
Rating 4/5
300 Users Ratings
ULTRA DURABLE MATERIAL
EASY TO ASSEMBLE
PET FRIENDLY DESIGN
SPACIOUS FOR SMALL PETS
PROTECTION AGAINST PREDATORS
Bunnies can be naughty and messy sometimes. They want to play with grass, even sleep on them. But that's not possible at your apartment. Give them a rabbit nesting box to play and have their personal time.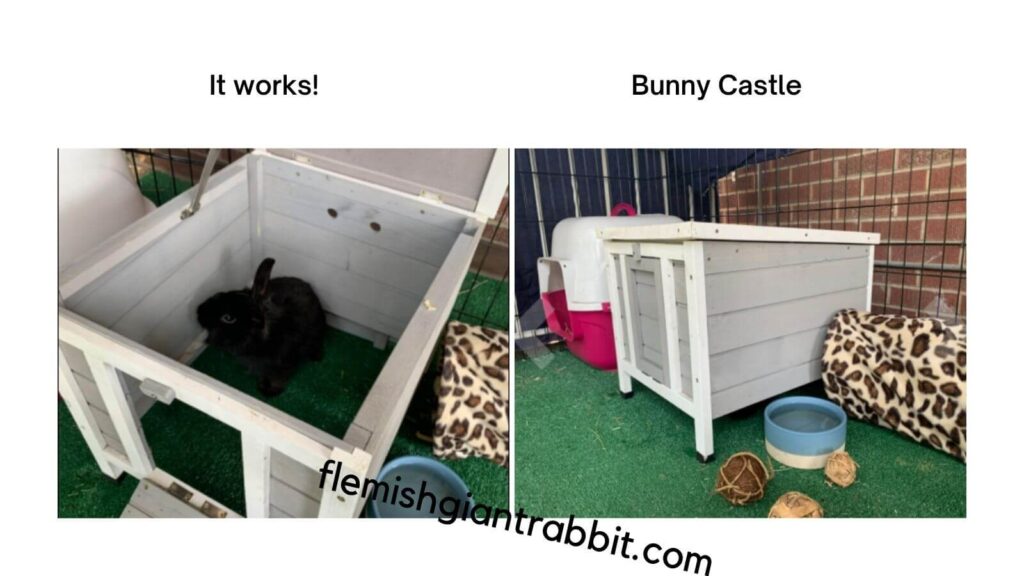 This Hutch is convenient for rabbits, cats and guinea pigs (if you have more than two). The fir wood protects the furry creatures from any insect or extreme weather. You can watch them play inside while working comfortably on your desk.
Pros
The fir wood wall is ideal for everyday use. It has anti-wear and tear properties perfect for daily use.
The design is compact and low-foot with two separate sections. The hutch does not require a lot of room. You can keep it on one side and enjoy your privacy.
Also ideal for smaller pets.
The dual-locks are strong enough to protect the animals from predators.
Trixie Pet Rabbit Nesting Box
Rating 4.7/5
2,000 Users Ratings
Amazon's Choice
Roof opens
With lockable door
Raised floor protects
One year warranty
If you are looking for more than one small rabbit nest box within affordable pricing, this is the perfect one for you.
Trixie makes a durable rabbit nesting box. This is a small animal hutch with a lockable front door. These are very simple to keep outdoors without letting your pet inside. Just add some straws, a heater and a straw bed – your bunny is happy with their home.
Pros
The roof opens from the upside giving your pet the ideal ventilation it needs.
The side locks keep the space secured from predators' invasion.
The shelter gives protection from sun and weather conditions.
The front door opens as a ramp making it ideal for animals to climb down.
The best hut if you are planning to buy more than one within budget.
Ferplast Krolik Rabbit Nesting Box
Total Review:- 2536
Average Rating
4.5/5
Large Wabbitat living space
Dual side doors
Available in 4 sizes
Amazone Editorial Recommendation
The Ferplast Krolik Rabbit Cage is perfect for pet owners seeking an airy and extra-large rabbit house. The cage of Krolik 140 Plus is wide and comes with an extension. You get this rabbit house with an inbuilt restroom and a play area. The play area is separated by a cage-like structure so that you can watch your pet play.
This rabbit nesting box has very nicely decorated walls with designs and durable locks. With proper ventilation, your pet can rest in complete tranquillity.
Pros
The bottom of the house is entirely knocked down while the upper portion has secured wire net design. The bottom has no-flares hence you get a lot of living space for your rabbit.
The base is high and large for easy litter collection.
The front door opens very quickly. Hence, the maintenance is very easy.
It provides enough space to keep two rabbits securely.
The habitat is pretty simple to assemble or re-assemble. It saves a lot of space when in use or not in use.
SunGrow Rabbit Nesting Box
Total Review:- 500
Average Rating
4.6/5
Hand-Made
Natural Grass
Lightweight
Durable
Safe
Comfortable
Other than closed spaces, a grass bed is a portable and must-have for pet rabbits. you can keep them at any place in the house for your pet to sleep anywhere freely. It is equipped with 100% natural chewable straw with minimal processing.
Pros
It weighs 2.5 ounces. The lightweight design makes the product portable.
Can be kept simply outside the rabbit cage.
Natural chewy materials make the bed a playful object for pets too.
Final Words
Having a pet rabbit can be a rewarding and challenging experience at the same time. They are small, friendly, and extremely affectionate. But their care and upbringing is also a demanding process. You can make it easier by having the right tools and equipment around you, such as the rabbit nesting box.
Moreover, the proceeds from all the products in the list above goes to sheltering, feeding, and nurturing rabbits at our shelter. Bunnies are kept under utmost care and caution, and they are provided with an environment which is closest to their natural habitat.
If you care for rabbits, you can always adopt one from us or donate to our rabbit care fund. If you already have a rabbit and want to give it the best care possible, choose from these products and help us take care of more rabbits along the way.